A máme ďalší rok za nami. Nikdy som neholdovala bilancovaniu a rekapitulácii, čo sa udialo alebo neudialo. Minulosť je nepredvídateľná a radno napredovať, než sa sentimentálne obzerať čo bolo.
TL;DR: Tento rok bol ale špeciálny.
Po 4 rokoch vo korporáte a ďalšom roku analýz už pre dánskeho zamestnávateľa, som sa rozhodla opustiť isté vody 9-5 zamestnania a vrhnúť sa voľným pádom na freelancing.
Prvým spontánnym rozhodnutím bolo fotenie streetstyle na Copenhagen fashion week, po tom, ako som sa nedostala na dve prehliadky. Fotky boli uverejnené vo viacerých škandinávskych médiách a hneď za tým nasledovala cesta na fashion weeky do Paríža do Prahy.
Na jar sa mi ozvala Marie, či by som sa s ňou nechcela spoluvytvárať pripravovaný magazín Luelle, čo dalo môjmu freelancu stabilnejšie kontúry. Koncom jari ma prvý raz oslovili z Virtue Scandinavia, súčasť Vice Media Scandinavia, s ponukou či by som pre nich niekedy nefotila komerčné projekty a tiež ma začal registrovať dánsky módny dom - Munthe, a mne sa splnil sen o ktorom sníva každá holka, ktorá je v srdci stále módna blogerka - vyberať si oblečko zo showroomu (nie z ázijského eshopu) len za to, že ho podľa ľubovôle môžem niekedy postnúť na IG. (tu sa asi každá etablovaná blogerka zasmeje, ale pre mňa to fakt znamenalo veľa)
And yet again, another year is over. Never been into recaps much, what's gone is gone, better to look ahead, but TL;DR version is—this year was pretty special.
After 4 years working in a corp, another one in a Danish startup, I was about to leave the shallow waters of 9-5 job and dive into the world of freelancing as a photographer.
It started rather spontaneously—After I didn't get a backstage pass to some shows at CPHFW, I decided to stay outside and shoot my first streetstyle ever. Pics were posted in several Scandi magazines and afterwards, I flew to fashionweeks in Paris and Prague.
What's more, shooting streetstyle and backstage of shows caught an eye of fashion and marketing professionals. In the spring, Marie Hindkær reached out to me, with a cool offer to work for her in a relaunched lifestyle mag Luelle, which gave a sense of stability to my freelance life, then I teamed up with Virtue Scandinavia (part of Vice Media Scandinavia) and became one of their contributors for various commercials and I started to be recognized by cool Danish fashion brands too, when (my blogger heart skip a heart beat with happiness) Munthe invited me to their showroom and our collab has started. Soo many exciting news and it wasn't even the half of the year!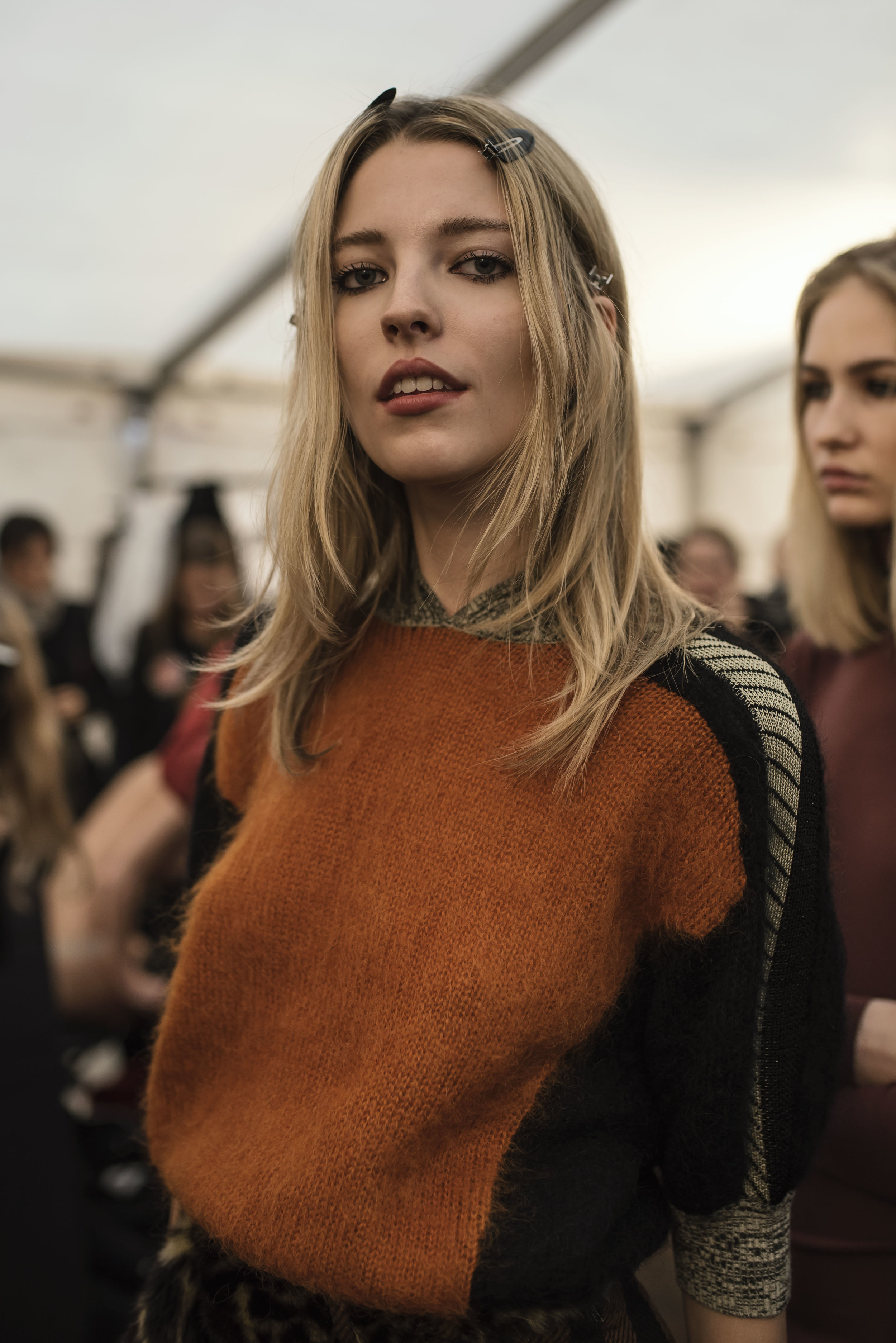 Leto bolo celkovo veľmi plodné, počnúc letným editorálom pre IG Henrik Vibskov Boutique a Barbary i Gongini, až po rôzne drobné stylingové projekty s rôznymi ľuďmi.
A augustové fashion weeky v Kodani a v Prahe kick-offli totálne mega vec, na ktorú budem spomínať snáď do konca života a to fotenie streetstyle pre Fendi počas fashion weeku v Milane. Tak zážitkami a svetovými osobnosťami nabité tri dni som nikdy nezažila a asi ani nezažijem.
Okrem pracovných ciest som i veľa cestovala. Boli sme s mojim mužom Holandsku (Amsterdam, Rotterdam), Španielsku (Valencia, Alicante a končene sa mi splnil sen vidieť La Muralla Roja), v Poľsku (Gdansk) a precestovali skoro celé Portugalsko.
Rok 2017 bol doslova prelomový i čo sa spätnej väzby na moje pôsobenie na IG a blogoch týka. To, s čím som v podstate úplne náhodou a bez nejakého dlhodobejšieho zámeru začala v Novembri/Decembri 2016, a teda v postovania mojich styligov ladených do určitých farieb, sa stalo počas roku 2017 pre mňa signifikantným. Ale i v časoch, keď som to prerušila (ako dovolenky, fashionweeky) sa mi stále dostávalo od vás veľa podpory a spätnej väzby, za ktorú som vám veľmi vďačná. Za posledný rok mi takto vzrástol počet followerov vyše o 2 tisíc (čo v mojom prípade znamená dvojnásobok) a ja nepoznám lepšiu odmenu akým je pocit, že sa ľuďom páči čo robím.
A čo je najdôležitejšie, spoznala som sa (alebo sa bližšie skamarátila) s mnohými zaujímavými a inšpiratívnymi ľuďmi - od fotoprofesionálov ako Andreea Bogdan, Søren Jepsen, Adam Katz, cez style icons ako Marie Hindkær, Susan Stjernberger, Marie My a.k.a. Nemesis Babe a všetky tie módne profesionálky a blogerky, s ktorými mám možnosť prehodiť reč počas fotenia pre Luelle, až po naše česko-slovenské ikony štýlu, módy, fotografie (a vôbec umenia), ako Barbora Kubi, Nikol Herec, Alexandra Hrašková, Lucie Kratochvílová a veľa veľa ďalších, ktorí mi obohatili rok 2017 svojou prítomnosťou, svetonázorom alebo hoci len osobným štýlom.
Už teraz viem, že i rok nový bude rokom veľkých zmien. Hlavne však, nech sme všetci zdraví a k sebe dobrí. Klišé, ja viem, ale ono to tak ozaj je.
Tak šťastný nový rok 2018, milí priatelia!
Summer was a ride too. Besides small jobs for IG of Henrik Vibskov Boutique and Barbara i Gongini and teaming up with cool people for their styling projects, summer fashion shows in CPH and Prague kicked off the most amazing job I've ever had (and maybe will have had for some time)—shooting streetstyle for Fendi social media channels in Milan. The most exciting experience that I will never forget! <3
Except for business trips I have traveled a lot in 2017. With my man we visited Netherlands (Amsterdam, Rotterdam), Spain (Valencia, Alicante and I finally visited La Muralla Roja - another dream came true), Poland (Gdansk), and traveled through most of Portugal.
Can't avoid to mention, 2017 was a blessing for my IG too. What started rather impulsively at the end of 2016, has become something like my style or signature - I speak about the colorschemes. But even in periods of time when I'm not able to maintain the mono-tone structure (fashionweeks, my traveling), you still show me great support and I'm very grateful for that. Thank you for all your likes and nice comments on the posts during the last year! Means really a world to me!
But also in the offline world - year 2017 brought many new people to my life. I had the chance to meet (or get to know better) so many inspiring and great people. This is something I appreciate the most. Real offline friends, but also a wide circle of acquaintances - that's what makes the world a really hyggelig place. From professional photographers like Andreea Bogdan, Søren Jepsen, Adam Katz, through style icons like Marie Hindkær, Susan Stjernberger, Marie My a.k.a. Nemesis Babe and all those super cool girls and fashion professionals I've met during Luelle shootings, to women of fashion, photography and art from Czecho-slovakia like Barbora Kubi, Nikol Herec, Alexandra Hrašková, Lucie Kratochvílová and many many others, who have illuminated my year 2017 with their style, personality, or world view.
2017 was just amazing and I already know, 2018 won't be any different. Let's hope it will be also full of kindness and health, because that's the most important thing.
Happy new year, my dear friends!